By Jessica Milette, MSW, RSW
When death knocks on the door of a community, each of us are impacted. Sometimes a death will touch many lives across a community, whether people knew the deceased personally or not. We may grieve the death of a family member, friend, or acquaintance, a well-known community member, or someone we are linked to by age, location, circumstances, etc. Community grief can feel overwhelming – we must tend to our own grief, but others in our life are grieving and hurting too. Each person in a community will grieve differently depending on their relationship to the person who has died, their own prior experiences of loss, and the unique coping strategies they rely on in grief.
Developed by psychologist Susan Silk and Barry Goldman following Susan's experience with a health crisis and her diagnosis with breast cancer, Ring Theory helps us learn how to support others and ourselves when a community death occurs.
Like a ripple on water when we drop a pebble into it, imagine a series of concentric circles. Those directly impacted by the crisis or death are in the innermost ring, with each outer ring consisting of those further removed from the crisis or death. Generally the immediate family, or those who lived with the deceased,are in the innermost ring, with close friends and other family in the next ring, co-workers and acquaintances in the next ring, and those in our greater community in the outer rings.
When someone experiences a death, those in outer rings pour comfort in, while those in inner rings are allowed to "dump" their thoughts or feelings out. When someone in an inner ring is dumping out their feelings, those in outer rings can show up with acceptance and care, listening and validating the person's experiences.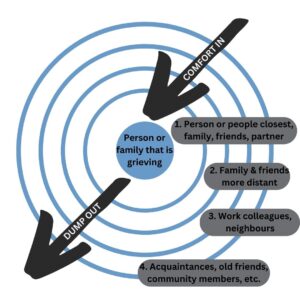 Pouring comfort in can also be the offer of specific, practical help. This approach seeks the griever's consent to accept specific support and comfort, it lets the griever say yes or no to the offer, and can confirm what kinds of support are most helpful to them. It's important to offer support on the griever's terms.
When a community faces loss, many who are impacted want to share their feelings about the loss. Susan recalled during her cancer treatment how some folks she did not have very close relationships with in her community would show up unannounced, forcing her to accept support, or people would talk about their own feelings about her diagnosis. Dumping feelings onto someone in an inner circle is not helpful. It can leave those experiencing the loss most personally as if their loss is unacknowledged. When we know which ring we sit in after a death, we can connect to our own outer rings anytime we need to tend to our feelings of grief. If we find ourselves thinking about reaching out for support from someone who is in an inner circle compared to our relationship to the deceased, we should take a step back. Is there someone else that may be located in the same ring as us, or someone in a ring outside of us that we can reach out to instead? Sometimes actually drawing out the rings of folks in our own life impacted by a death can clarify where we need to support others, and who we can connect with for our own support.
Whether supporting others, or seeking support ourselves, a helpful phrase may be "Would you like to be heard, helped, or hugged?" Being heard means receiving supportive listening and validation. Being helped may mean brainstorming and collaborative problem-solving, or providing specific practical help with tasks. Sometimes there are no words or help we can offer, but, if welcome, our steady presence and a comforting hug can communicate our support.
Each person in a community will be impacted differently by a community death. It's important to remember this theory about who we need to pour comfort into, and who we ourselves can dump out to as we navigate a community loss.
Articles Reviewed for Blog Post:
https://karenwulfson.com/wp-content/uploads/2013/04/How-not-to-say-the-wrong-thing1.pdf
https://www.latimes.com/opinion/op-ed/la-xpm-2013-apr-07-la-oe-0407-silk-ring-theory-20130407-story.html (actual article in LA Times first written by Susan Silk – first link is PDF version of same article)
https://www.psychologytoday.com/ca/blog/promoting-hope-preventing-suicide/201705/ring-theory-helps-us-bring-comfort-in